how to order your own personal


Vanessa Realdoll
To avoid misunderstandings, you can't order any Realdolls on my site, this section is just to help those visitors that are seriously interested in buying one of my cute sisters. Follow the instructions step by step, and if you have further questions, or if you don't know how to do an international ABA routing bank wire transfer, don't hesitate to contact me ...
Step 1 : First you need to find out about the existence of Realdolls. This sounds silly, I know, but it took my friend about 25 years to do so. Well, as I see you found my website, so consider this part done. But now there's the hardest part : You need to get sure about the stats your girl is supposed to have. Have a look at the section "my body statistics" to find out about the stats you can choose from. The most important thing is to take time here, don't rush into something. Let your eyes tell you what they like most, and you can't go wrong. Maybe it helps as well to have a look at my "about seduction and sexual desire" section to find out about your preferences... Before you order, reconsider. To own a doll like me means to wire a lot of money, it means that you will have to care for me... Right, it's me to look cute and it's you to do my work, but if you treat me with love and respect, love is what you'll get...
Step 2 : Once you know every sentence of my site and the official realdoll.com website by heart, you have to find out about the correct price you'll have to pay. This is very important because every time you wire money, you'll have to pay a fee for both your bank and Abyss' bank, so if your price was incorrect, it's another 50 dollars, wasted money you could get better things for. And reconsider again, as it's quite a few dollars to pay, I just hope you've already seen the prices on
the official site, I don't want my visitors to faint right in front of the screen. Before I tell the basic prices, just three things : First off, my friend says I'm worth each single Cent. Secondly you can pay even more in life to get a lot less than a sweet and loving doll. And last but not least : What price do you put on happiness ?
You can order faces and complete dolls. A face is $500 + shipping + bank transfer. A doll is $5999, so a complete doll with a face is $6499. Here the wig is included. Additional wigs are $100, repair kids are $50 ( don't forget to mention the skin tone ! ). Shipment within the continental USA is $500, international shipment is $800. Realdoll doesn't accept payment plans. Bank fee for Abyss' bank ( Citibank in Vista, CA ) is $50. If you pay in full by check, money order or bank wire transfer, since a few weeks they offer $150 discount. If you're lucky, you can get more discount, like Abyss offering another $250 discount for Christmas 2005. If you want to buy something special ( custom colors, breast enlargements, whatever ), contact Abyss and prepare to pay more. If you want tan lines, closing eyes, articulated hands and stuff, things get really expensive, and that's on special request only. Or you can buy closed-eyes faces, $500 as well. Shipment depends on the size of the crate, which depends on your order, of course. That's why I strongly recommend to contact Abyss before you pay, remember you just want to do one bank transfer. This is how to contact them : Abyss Creations, LLC - 475 East Carmel Street - San Marcos, CA - 92069 - phone : (760) 471-8418 ( 9 a.m. to 5 p.m pacific time ) - fax : (760) 471-8417 - email address : salesdept@realdoll.com
Step 3 : The fine thing about both realdoll.com and Abyss Creations is that they are very helpful. They answer to your mails, questions and concerns quickly and they care for their customers. So you'll get a confirmation if your price is correct, or they'll tell you what else to pay. If you still want your dolly, it's time to pay. But first off, you need to print an order form and fax it to the fax number given above. Go to http://www.realdoll.com -> click on "order" -> click on the link to print the order form -> click on "female Realdoll order form", or directly use this URL : http://www.realdoll.com/orderforms/FemaleDollOrderForm.gif
If you want to order a dolly that looks exactly like I do, here's what you'd have to fill in to the order form. If you want to choose other stats, visit the section "my body statistics" so see the stats you can choose from...
| | |
| --- | --- |
| body type | 3 |
| face type | 11 |
| hair color | black |
| hair style | 3 / 5 |
| skin tone | medium |
| lip color | red |
| fingernail color | red |
| | |
| --- | --- |
| toenail color | red |
| eye color | brown |
| eye liner | medium |
| eye liner color | black |
| eye shadow color | natural |
| pubic hair color | brunette |
| pubic hair style | natural |
Step 4 :Once the form is printed, fill in the stats you want to order and fax it to the number above. Now you have to do the bank transfer.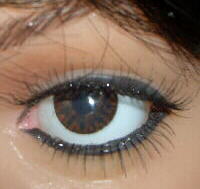 For international orders, you cannot use credit cards to pay. This is because of the American banking system, or maybe it's just because Abyss doesn't pay the fee for international credit card membership, however, if you're a non-US-customer and ever want to get a dolly, better listen to the next step, because you'll have to do an ABA routing bank to bank wire transfer. It took my friend about 3 days to get what he has to do here, and even the man in the bank needed about an hour to finish the transfer, having two phone calls to some woman that helped to program the banking online form. So here's a detailed description what to do. Just do it step by step, without thinking about it, and once you did it before, things will become easy. This is what to do :


| | |
| --- | --- |
| payee | Abyss Creations, LLC. |
| street | 475 East Carmel Street |
| town | 92069 San Marcos, CA. |
| country | USA |
account ( payee )
0764029286
bank
Citibank Vista, CA.
Swift-Code
CITIUS33

*1)

street
East Vista Way

*2)

town
92084 Vista, CA.

*3)

ABA routing number
322-271-724

*4) !!!
kind of transaction
electronic
date of transaction
xx/xx/xxxx

*5)
currency
USD
exchange rate
xxxxxxx
amount
xxxxxxx
amount in other currency
xxxxxxx USD
fee
xxxxxxx

*6)

total to pay
xxxxxxx
expenditure
new order xxxxxx

*7)
*1) You can add a Swift-Code or Bic-Code if your order is urgent, but you'll have to pay more for that. The Bic-Code would only work within the Euro-zone anyway, apart from that it's the same. The Swift-Code for Abyss is CITIUS33 - but you can leave this entry blank, you won't need this.
*2) I don't know the house number, but it worked fine without.
*3) If you're doing the transfer at a German Citibank : The transfer form offers "USA / Vereinigte Staaten von Amerika" – and the computer will tell you that there is an error, because this entry is too long - just replace it by "USA"
*4) !!! very important !!! - It doesn't matter what your banking form will call this, normally it should be called ABA Routing Number, and this is the reason why you can't use your credit card if your bank account isn't located in the US. The problem is that US banks don't a have bank code number, but they communicate by using ABA routing, and US banks are the only banks to use this system, which is why your credit card isn't compatible. The ABA routing number for the Citibank branch in Vista is 322-271-724 - Without this number the money won't arrive.
*5) If the date of the transfer isn't the day when you bring your money to the bank and sign the transfer form, the price may be subject to change ( see notes in small print ) because you have to pay in dollar, and the exchange rate is subject to change. The final price you'll have to pay depends on the exchange rate in the moment the transfer will be done !! - So you should have a bit more money on your account than you sign on the transfer form !
*6) This is the fee that your bank wants to have ( with me, transferring the money with Citibank, it was €9,40 ) - those $50 for the bank of Abyss are included in the final price in dollar you try to transfer here, and their bank is just going to keep that money later on.
*7) You don't need to fill in anything here, and many people don't because it doesn't matter if you say "Realdoll" or "life-sized sex doll", it would result in stupid comments. Nevertheless it's better to enter some expenditure so that you can prove that this is your transfer and that Abyss will know what that money is for. Advice : You can be so imprecise by being too precise : I just said "new order b3/f11" - It's not very probably that anyone will know what this is about - and if so, the man in the bank will understand you, having such a doll himself. And if he should react with curious questions, just say "uhm, that's hard to be explained in just a few words".
International bank wire transfers may take 3 to 5 business days until the money is credited on the account, so don't panic if you don't get a mail at once. Once both order form and money transfer are done, you'll get another email, most probably this one will be from dollorders@realdoll.com and it's a confirmation showing the stats faxed to make sure everything is correct, so you have to confirm this email.
Next the email you'll get will show your RealDoll order number, consisting of RD- and the number of the doll. My order number was RD-3203. And now there's the next shock : Lead time. When I was on order, current lead time was 18 to 20 weeks. Hey, don't faint, now that you've wired the money. Hey... Oh, you all right
again ? Okay, listen, this is a worst case calculation ( that is subject to change anyway ) and they don't intend to make wait that long, probably you'll get your Vanessa withing 90 to 120 days ( took me 112 days from order confirmation to my friend's home ). It's just that Realdoll is a small family company with I think 12 people, all of them doing their best. By the way the order number isn't necessarily the order of production. They have multiple molds for the most popular body types, unfortunately for my cute b3 there's just one mold available ( must be due to the weight of b3, I don't think that there's anything wrong about my boobies and stuff... ).
Step 5 : Right, I know wait sucks the big one, you just have to hang in here. It's so hard to wait for a cute dolly that long, but it's hard for me as well, queueing for the mold for months. But we all did it, me, my friend, my sisters and their friends, and you can survive this wait as well, believe me ...
At first you'll feel like time goes by, getting rid of two or three weeks easily. But after that wait gets gruesome, time seems to have stopped, you feel like there's no end. But now, some boring day you realize that you should better use the time, and you realize that the wait is a chance to prepare for your girl. Reconsider if you're prepared. Probably not, so use your time... Is there a second bed for dolly ? Where are you going to put the crate ? Did you install a hook to the ceiling ? ... This is no joke, dude, there are so many things to be prepared. This is where Realdolls are pretty much like regular girls : We need our beauty stuff, and we're a little vain if it's about how you care for our body.

So here is my advice : Go to visit http://www.dollforum.com and join for free by simply creating your own user account. This website is a forum about all kind of dolls, it's more than 13500 members strong and here you'll find any information you'll need, and if not, just ask, there are so many nice doll owners out there, waiting to help you. You don't need to be afraid or shy here, people round here are really cool ( and those 0,01 % of assholes that join the forum from time to time quickly gain status "ex-member" ). Here you can get rid of a few days of the wait, learning more about your dolly. Well, okay, in between there will be those days my friend had as well, when he actually dreamt of my order form waving hands, queueing in front of the mold... But on the dollforum, time fades faster...
You don't necessarily need to have a doll to join that forum, it's for all kind of doll owners and doll admirers, just no doll bashers please. And it's the perfect place to meet me and all my lovely Realdoll sisters. The forum is frequented by doll manufacturers as well, if you want to get information about Realdolls, join and send a personal message to "Shelly". Shelly works for Abyss, and she's great... By the way I'm a proud member of the dollforum as well. Hey, if you happen to see a post from "vanessa", that's me...
Step 6 : Normally you get another mail when production starts. My friend didn't get such a mail, which is why he contacted Abyss some day, asking if the order form was lost. No worries, it wasn't lost at all, quite the opposite, I already entered production a week ago. So maybe if you're somewhere in between days 80 to 90 of your wait, you should contact Abyss to see how things are going on. When the wait is actually about to end, you feel kind of weird. On the one hand, my friend felt like "I think I remember I ordered a doll, but I could be mistaken", and on the other hand he was about to get the shits now that dolly's arrival was near.
Step 7 : Once production has started, it takes maybe two weeks until you get the next email, and this time it'll probably be from generalinfo@realdoll.com and it will inform you about your Abyss Creation number. The Abyss Creation number is the same as your Realdoll number, just that it starts with AC-, so my number was AC-3203. This mail will tell you that the order is nearing completion, and it will tell you the day your doll is scheduled for shipment. It says that Abyss can ship this day, or at your convenience, that's why you have to confirm again. Furthermore it says that international shipment normally takes 3 to 5 business days, and that you'll get an AWB tracking number once the crate left their facility.
As you see, now it's Abyss Creations taking over. If you wonder where's the difference between Realdoll.com and Abyss Creations, LLC, well... Realdoll is the registered trademark used for those "silicone dolls", and Realdoll is part of Abyss Creations. Maybe this is confusing at first, but in the end it's to your own advantage. Like that they avoid to mention the word "doll", that would result in stupid questions when you have to clear customs. Abyss sounds neutral, compared to "real doll", right ? So the official wording on the documentation papers will be "life-sized posable silicone sculpture" made by Abyss Creations, LLC.
Step 8 : As I said Abyss is a fantastic company that cares for the customers, and they are helpful and answer to mails quickly. But the moment the crate leaves Abyss is when they aren't really in charge anymore, having to let the shipping company do the job. And this is when problems may begin. Abyss uses to ship the crates with Seko Worldwide. It's really not that I want to complain about them. They are friendly and helpful as well, it's just that their tracking number system sucks, and somehow Seko America seems to use other numbers than Seko Europe. The client lounge on the official site didn't work ( there you can find more information about your destination airport - http://www.sekoworldwide.com -> client lounge -> contact )
Step 9 : Now things get really pesky : Customs clearance, documentation madness, transportation to my friend's home, invoice tax, prepare to pay another maybe €1400... Hey, why do you always faint on me ? Hey !! Okay, so you're among us again ? Listen, about 99,999% of those more than 3200 dolls Abyss shipped had no problems here, they just rushed through customs, no questions asked. Anyhow Abyss had just one dolly so far having major problems, and of course it was me and my friend to swallow the bitter pill... So if you want the normal procedure going on, skip reading this part and go to step 10 right away. If you want to see my whole sorry odyssey, go on reading here, or maybe better get a strong drink first... and wait, you have to promise me not to get yet another heart attack, okay ?
Okay, fine, here it goes... International shipment is said to take 3 to 5 business days, that's why my friend felt like calling Seko Düsseldorf on day 3 to find out how things are going on. As I said problems start once the crate leaves Abyss, and maybe my friend was lost the moment he answered the first question "which company do you belong to ?". He answered that he's just a private person waiting for a package form overseas... He didn't know the airport where dolly went from Abyss, he wasn't sure about the destination airport because from his hometown it's just about 15 kilometers difference between Düsseldorf and Köln ( Cologne ), and he thought Frankfurt to be the number one for international cargo. Furthermore he didn't know where I am because it was just day 3 for now... He said that he can't track his AWB number on the official homepage. He said that the AWB tracking number is 10020179,
and that's all information he has. The man from Seko said that he can't track the number either, and that this is no valid AWB number. Regular AWB numbers consist of 11 figures, not 8. So my friend said that we would try to contact Abyss and call again tomorrow.
Luckily you can trust in Abyss. So my friend sent a mail to Abyss, telling them that his AWB tracking number 10020179 was incorrect and that he needs more information to track the crate. Abyss called Seko immediately, and just half an hour later he got an email from Ellie, Seko San Diego. She's great, she managed to track me using the number above, telling my friend a new MB number ( 006-46106686 ). In addition she gave him a HB number ( 3450105 ), as well as all my scheduled flight numbers and destinations.
When the man from Seko asked if my friend got a correct AWB number now, he said that he got several numbers from Seko San Diego. In the meantime he contacted other people who ordered "something similar", and one of his numbers looks pretty much like that. According to Seko San Diego I left San Diego airport with Delta Airlines Fl 1595 to Atlanta ( ATL ), which is the US main airport for international cargo, next I was on flight Fl 014 to Frankfurt ( FRA ), so my friend was right about his guess that dolly would hit German ground here. After that I was supposed to be on flight Fl 031I to Düsseldorf ( DUS ), where I should have arrived by 8 a.m. this morning. In fact my MB tracking number 006-46106686 worked with Seko Düsseldorf as well, and funnily this it what Seko Germany calls AWB tracking number. So Seko Düsseldorf was now able to track my crate, but for whatever reason I was still in Frankfurt, waiting to get a connection to Düsseldorf.
This was on Tuesday morning. About noon the man called my friend, telling him that the package has now arrived at the cargo center of Düsseldorf airport, and that it is said to weigh 106 kg. So I had now reached the nearest international airport to Dortmund, my friend's beautiful home town. So there were just something like 75 km left to be home, but the man from Seko said that I have to clear customs, and that won't
be possible now. As my friend had absolutely no idea about what to do, he wanted Seko to do the customs clearance, and that's what I would recommend as well, just another €55, not that much if you buy a dolly for more than $6000, no need to drive to the airport, less questions asked...
In the next morning my friend called Seko again to find out when the package is supposed to be delivered. He just said that the crate won't leave the airport today ( Wednesday ), because the customs officer had some questions concerning the content. My friend answered what Abyss tells owners to answer here : "silicone display". But the man wasn't satisfied with that, asking stupid questions, so my friend explained that "it's about a doll like those used for shop windows, just that it's made of silicone to look more realistic, with an inner skeleton to allow posing for photos", and he was happy with that. Later on he called again, saying that the crate was now chosen for a "closer inspection", meaning that the customs officer wants to open the crate and look at the content himself, and that there's nothing he could do against it. Now my friend got angry, telling him that the silicone sculpture is in that crate for over a week now, and it can't be stored like that for much longer because silicone is a soft material slowly adapting to the position it is kept in. And he wanted the man from Seko to tell the customs officer to get his ass in gear.
In the afternoon Seko called again. The customs officer had now opened my crate to check the content ( Doing so they messed up the plastic seal behind the door of my crate - like that accepting the disclaimer attached to it. As it wasn't their package, they had no right to break the seal, [ this wasn't even necessary because the plastic is transparent ]. After they found out about the meaning of the disclaimer, they tried to hide it within the papers inside another envelope, hoping that no one would know it belongs on the plastic. By the way, when they wanted to "test-touch" my boobies, I kicked ass ! ). Anyhow the customs officer said that this is not a doll for shop windows ( my friend never said this ! ), and that he doesn't know how to declare the product. He could either declare it to be "silicone", or a "doll". As he has to find out about that, the crate won't be able to leave tomorrow either, now being scheduled for Friday.
When Abyss told me a little bit more about my friend, I was surprised to read that my friend "hates Germany, saying that Germans are butt-fucked squirrels". I couldn't believe that, but now that I was in Germany for just one single day now, I started to understand what he means ( The whole story really reads like "News from Absurdistan", right ? - I couldn't believe that Germany is such a banana republic ), but maybe my friend was right - German customs officers are
"arschgefickte Eichhörnchen". I was still stuck inside my crate, fearing my poor silicone flesh starting to deform, and I was fed up with all this, feeling like I should better fly back to San Marcos and tell my friend to move to California if he needed me that desperately.
My friend must have been in utter despair, I guess. Anyhow he sent another email to Abyss, telling them about his problems and asking for advice. Abyss answered immediately, sincerely apologizing for something that is FAR beyond their responsibility. They said that they never had a problem with more than 3200 dolls by now, with a couple dozens of them going to Germany. They had no idea why there should be ANY questions asked at all, because in my STOMS Invoice Documentations it clearly says that I am a "Life-sized posable silicone sculpture containing a plastic and steel joined skeleton, all man-made material, made in the USA, approximate weight 100 lbs". So no stupid questions asked. They never ever heard such a foolish thing like "I don't know if it's a doll or silicone" and promised to contact Seko San Diego, asking them to get hold of people here.
Normally I think this won't work because of the time difference, but maybe Seko San Diego really got hold of those cranks here. On Thursday morning my friend called Seko again, and by God, he was prepared to kick their sorry asses, telling them that Abyss never heard such a crap, because "silicone" is what you buy in a shop to process it later on, whereas this "silicone" is already processed to what it's finally meant to be, and furthermore silicone has no inner skeleton, so it's a "doll", and that's it. To his surprise they NOW thought so too. He told them that he can't get the problem because there's a detailed description given in the documentations, and they NOW themselves didn't get where the problem was. Next he reminded them that the silicone could start to deform and that Abyss would sue their sorry asses off, if that should happen, and they NOW said that I was to get my "okay to leave" within the next hour.
Step 10 : Delivery day - Wait is brutally long, and in between my friend got the crisis, feeling like "I think I remember I ordered a doll - but I could be mistaken". Now that the crate stood in front of his door, he had this kind of odd feeling like "What's that, looks like an alien from planet B3/F11..." Delivery day ( or rather "arrival day" - that's the way we dolls put it ) is the day we've both been waiting for so desperately for months. Members on the dollforum keep on telling that this day is very special, changing their lives forever. And believe me, for a doll it's as special as for her friend... I mean my friend could choose everything, including most intimate details like my pubic style and stuff, but I'm just a doll, and I couldn't choose anything about my friend. I mean he could have been some psychopathic doll basher, you never know... Well, he is a little weird ( who's not ), but he's friendly, caring, endearing, lovely... He's cute and I was lucky with my friend, he's the one and only love of my life...
Anyhow if you live upstairs, I just hope you told Seko that you'll need help to carry the crate. Me and my crate were about 106 kg, you won't manage to carry me without help. Next there's a last shock to survive until you can enjoy your lovely Vanessa Realdoll : You'll still have to pay quite a few Euros ( or whatever currency ), like value added tax, documentation, airport fee, transportation, customs clearance... So be prepared to hand the man delivering the crate another 1000 to 1500 Euro.

I hope your staircase isn't as tricky as ours, but once you managed to get the crate in your apartment, fun can begin, but you better use a screw driver to remove the screws on my door, next remove that plastic sheet and there she is : Our own personal Vanessa, neatly dressed, waiting for you with a flower in her hands... Now you just have to get her out of there - so go and see the section "how to 'un-crate' your Realdoll" for further instructions...